Friday August 23, 2013
August 23, 2013 in Uncategorized
Seattle Washington, to build new Centre For Wooden Boats:
Many thanks to Ashley Gross and Station KPLU in Seattle for permission to share this story
Another new building is coming to South Lake Union, but this one will not be a workspace for Amazon techies—unless, that is, they like to build wooden boats.
The Center for Wooden Boats plans to start constructing its new education center in Lake Union Park this winter.
The center is rapidly outgrowing its rustic floating boathouses that have become a Seattle icon. It's almost a rite of passage for Seattle kids to visit and spend time pounding in nails to create their own miniature sailboats, decorated with bottle caps.
But school groups are by no means the only ones who come. More than 100,000 people visit the center every year, taking sailing and woodworking classes and hopping aboard free boat rides. Now more people are coming, especially since the Museum of History and Industry opened its new building next door.
So after years of planning, the center is now getting ready to expand with a 9,000-square foot education center on what's now a plot of gravel in Lake Union Park, between MOHAI and the parking lot.
The building will double the size of their existing floating boat shop, says Betsy Davis, executive director. Inside, they'll restore boats and build new ones, hold workshops for adults and classes for kids.
The design is a mixture of modern and traditional boathouses. It will rise like a glass box with panels of wooden slats that can slide up and down. At night they plan to keep it lit. Davis says it will look like a lantern. And she says it will draw in more people.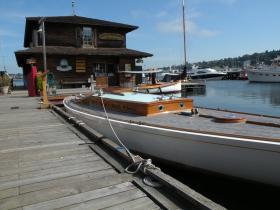 Credit Ashley Gross / KPLU
The Center for Wooden Boats is outgrowing its current floating boathouse
"So I think we'll be a little bit less hidden of a secret," Davis said. "And more people will find out it really is OK to go into the boat shop and see what people are doing. Oh, it really is. You can go down and actually use those boats."
Davis says the building will be a place in the middle of the hubbub of South Lake Union for people to unplug, feel the wind, pick up a hammer, and get back in touch with the water.
The building will cost $6.6 million, and the center is still fundraising. Big backers include the Norcliffe Foundation, the Washington State Historical Society, Foss Maritime, and Lake Union Dry Dock. The plan is to open by spring 2015.